Omaha Property Management
Management One First Choice Property Management
Let Us Manage Your Rental Property
Have you thought of everything, we have?
Since 1983 over 3,000 owners have trusted our staff and company to represent them and their property. Management One First Choice is a very progressive management company and one that stays on the cutting edge in the property management industry. This will get you the owner top rent, rent your property quickly and holding residents accountable for rent payments and your property.
Overview of our Services
While we're very cost conscious we're also very value driven. After all your property is a one of your biggest investments and so our owners look at their rental property the same way they would at a serious surgery. While you want a competitive rate, just an important you want the right and best surgeon. The cost to have a top-rated property company with all the quality services that will keep your resident accountable and monitor the condition of your property is less than a cup of coffee a day.
Full Service Property Management
Make your property rent ready within budget to get top rent
Market your property and Residents must pass our 9-point screening system
Prepare the lease and legal documents
Collect the rent and security deposit
Maintenance repairs with fix pricing and no mark up to Management One First Choice
Inspect exterior monthly with a photo you can view on your phone
Annual inspections of the interior and exterior
Evict the resident if necessary
Marketing campaign, Advertising and Showing the property

Renting Property

We provide nationwide advertising on free and subscription based sites to gain maximum exposure at no extra cost to the homeowner, and we showcase homes using the latest technologies.

Since we have rented over 10,000 properties we marketing to all our current and past residents who referred hundreds of referrals each month.

With our renters scheduling system new prospective residents can schedule a showing 24/7 with a time that works for them and this rents your property 25% faster.

Screening Prospective Residents

Screening

Our eviction rate is less than 1% over the past 31 years where we have rented thousands of homes
We provide eviction service if necessary
All Residents must pass our 9-point screening process
We have partnered with a nationwide screening company to process our rental applications.
Prospective tenants can apply online 24/7. We process all applications until a lease is prepared for execution.
Applications are processed electronically and include credit, employment for income, debt ratio's just like a bank does when you buy a home, past eviction background searches, current and previous rental history, FICA score and more...

Monies to you the Owner

Accounting

Get paid fast with Direct Deposit...

Resident submit rental payments in a variety of ways, including: credit card, bill pay, cashier's check and money order or cash pay.
Owner's rents are sent out between the 7th and 11th of the month.
The owner portal allows owners to view statements, invoices and before and after photos of repairs from desktop to tablet to their smart phone.

5 Step Maintenance System

Maintenance

To ensure owners they are getting the best prices and best services Management One First Choice makes no profit on maintenance repairs.
The outside vendors we use must agree to our maintenance price list one year in advance this controls your cost as an owner and eliminates cost overruns.
Any one repair that exceeds $250 the owner must approve unless it's an emergency, like a water heater that needs replaced.
Our per hour labor cost is nearly half of other maintenance companies and our warranties are 3-4 times longer than others saving you tons of money on recall items.
We re-key properties and inspect smoke and carbon monoxide detectors between occupants to ensure your asset is protected.
All vendors must be licensed and require reliability insurance.

Inspections of Property

Inspections

We inspect and video tape the property before and after each resident.
We send each owner a job estimate breaking down exactly what the residents owes on move out and what you would be require contributing to make your property rent ready.
We inspect the outside of your property monthly or quarterly per choice of contract and we take a photo of the exterior which you can view on your smart phone. This keep the residents accountable and your property in good condition. If we do give a violation for not keeping the property in good condition you are sent an e-mail and photo of the violation and another photo after it's been resolved giving you 100% transparency on your property.
Annually we send you up to a 20-page report with photos of the inside and outside of your property along with recommendations.

Evictions and Legal Issues

Evictions

If a resident does not pay rent a 3-day notice is served on the 6th of each month and the eviction process has been started. Our average eviction takes about 30-60 days to retake control of the property.
Our eviction rate is less than 1% in thousands of properties we've managed.
While under eviction you are given an update every week, so you know exactly what the status is.

Sufficient Staff with knowledge and expertise

Staff

Residents stay in your property when that receive consistent timely service to repairs and questions and the same service every time. The same reason you and I go back to McDonalds we know what to expect in the taste of a burger, fries, or a shake.
Most companies speak of their cheap fees but in management if you have a high turnover in staff and you will if you don't pay them a fair wage with medical insurance you will receive a high turnover in residents and this means a major loss in revenue for you. While your management fee is 8% to start when your property goes vacant it goes to 100% as you have no rent coming and cost to get the property ready for the next residents in much more often, increasing your cost.
Management One First Choice staff some of have been with the company 20 years and many over 4 and 5 years.
Our staff must all go through a 100-day training program and past very rigid testing with a 90% score or better before they can work with you, your resident or on your property.
According to think sales 68% of customers defection takes place because customers feel poorly treated, if a management company has insufficient staff without the knowledge and experience vacancies will have much more often and this mean skyrocketing cost for you. http://www.thinksales.co.za/the-real-cost-of-losing-customers

Resident Retention

Resident Celebration

Your biggest enemy in rental property is not repairs and not our management fee, its vacancy. This is because when your property is vacant you have no rent coming in a lot of cost going out with your mortgage payment, utilities, lawn services and making your property rent ready.
Resident retention starts with the day they sign their lease. At Management we have a resident celebration for them.
Rapport creates long term residents; our longest resident was with us for 20 years in the same property and 50% of our resident have been with us over 10 years.
Rapport and relationships are built with our property inspectors going by the property every month where they a see several residents in the front yard and at the annual inspections.
Our vendor must respond with 2-4 business days depending upon the issue to the resident schedule a repair.
A survey is also sent out to the resident after every work to make sure our vendors showed up on time, was courtesy and clean up after they were done.

Management Fees

Fees for Services

There are NO hidden fees. You do not pay a penny until your property is rented and the monthly management rates decrease with time until a well-qualified Resident is placed in your property.

Clients with 2 properties or more start at a first year rate of 9% (not 10%) per month which can respectively decrease to 8% per month if the vacancy time exceeds 121 days or longer for a specific property.

There is a deposit of $349.00 due at time of signing with $99 being an advertising fee and $250 is just a maintenance deposit.

Clients who have us manage a second property are given one month's management fee FREE (up to a $300 value), a reduced management fee of 9% for the first year ( a $200 value) and clients receive a Starbucks card from us each month for an entire year. (A $120 value). Total value of $620.00 for each property that you either have us manage starting with the second property or if you refer us to your business associate, friend or family member to manage their property.

Placement of a resident in your property (also known as a leasing fee) is $495.00, (unlike many companies that charge 50% of the first months which can be over $1000) this is the first month only. There is no management fee charged at any time the property is vacant.

Quality Webinars with our Broker/ CEO of 35 years

Learning Center

Quarterly webinars are presented on Investments using our Single-Family Home Retirement Strategy system (SFHRS)
Insurance where to get the best coverage with the best rates and the best payout when there is a claim
Asset protection of your rental property and your personal property
How to Invest your IRA in rental property
How to manage your investments with inexpensive easy to use software
Omaha Area Information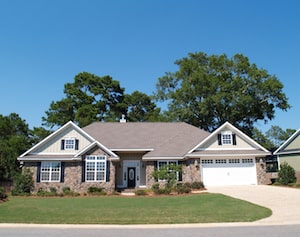 Omaha is the largest city in the state of Nebraska and the county seat of Douglas County. Omaha is located in the Midwestern United States on the Missouri River, about 10 miles (15 km) north of the mouth of the Platte River. Omaha is the anchor of the Omaha-Council Bluffs metropolitan area, which includes Council Bluffs, Iowa, across the Missouri River from Omaha. According to the 2010 census, Omaha's population was 408,958, having increased to 466,893 as of the 2017 estimate. This makes Omaha the nation's 40th-largest city. Including its suburbs, Omaha formed the 60th-largest metropolitan area in the United States in 2013, with an estimated population of 895,151 residing in eight counties. The Omaha-Council Bluffs-Fremont, Nebraska-IA Combined Statistical Area is 931,667, according to the U.S. Census Bureau's 2013 estimate. Nearly 1.3 million people reside within the Greater Omaha area, comprising a 50 miles (80 kilometers) radius of Downtown Omaha, the city's center. Source From Wikipedia